The form response filters can help you save time in managing your events as well as your answers to your attendees.
They allow you to quickly get accurate information about your attendees, without leaving your Weezevent interface nor having to export an attendees list in .csv format (excel) - very convenient if you don't have a laptop with Excel on hand!
1. How to use the filters
To filter your attendees by form response, log into your Weezevent account and click on your event.
Then click on Attendees > Manage attendees to access the complete list of your attendees.
Click on +Filter on the top left corner to access all the filters available.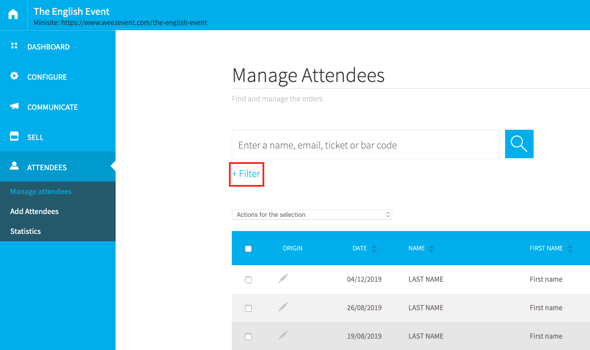 You can then click on Filter by form and move the button to Yes if you'd like to filter the responses to the forms that you collected.
In "The field" section, choose the title of your question. For instance: "Marital status", "Phone", "Address", "Company", "Job title", etc.
In the "should be" section, choose if the response must be equal to, different from, lower than, higher than or start with the text entered in the section from/to.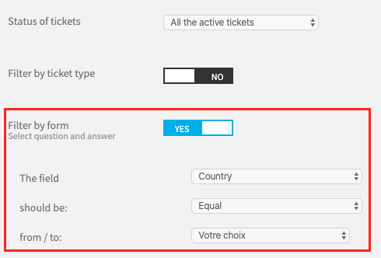 2. Why should you use filters
For a race - it can help you find the members of a team quickly.

For a food-related event - to easily find the people with dietary requirements (vegetarians, allergies, etc.).

For a concert or a festival - to quickly find if an attendee has special needs (disability, etc.). You can then easily organise care with the volunteers.

For a festival - to have the list of attendees who requested access to the camping grounds.

Feel free to use the form filters to find in one click the most important data about your attendees, without having to leave Weezevent or needing to use another software.