Paying option (on quote) - 3 to 5 working days for implementation
You can contact us by email at contact@weezevent.com or by phone on +33 (0)1 86 65 24 00 to find out more about our various online ticketing solutions
1. What does a subscription allow?
The subscription option allows your participants to subscribe to your ticketing service and benefit from dedicated rates.
This setting gives you the possibility to create member rates with packages and/or discounts.
The possibilities offered by the subscription:
Sending a membership code to your subscribers - this code will allow them to book tickets for your events at a discounted rate
Setting a duration/period of validity for your subscription
Creating ticket types for your events that will be exclusively dedicated to your subscriptions, a valid membership code will be required to be able to place the order
Linking the events, categories and rates of your choice
Setting a membership code usage quota for each ticket type and/or category and/or event
2. Creating subscription rates
For your "traditional" events, you can create one or more ticket types dedicated to your subscribers.
Once linked to the subscription of your choice, these ticket types can only be purchased using a membership code.
3. Creation of the "Subscription" event
3.1 Creating the event
From your Weezevent account, create a "Subscription" event by clicking on the blue button "+ New event".
Go to Configure > Ticket types and selling > then create one or more ticket type(s) corresponding to the purchase price of your subscription(s), in the same way as you create ticket rates for your other events.

3.2 Weezevent - activation of the premium service
After these two actions, please get in touch with Weezevent at contact@weezevent.com and give us the ID of your event. Your event ID is at the bottom left of your page, it starts with an E.
We will then activate the necessary premium services. Once this is done, your subscription will appear at the top of your event list and with a yellow box:

3.3 Creating the subscription
Then go to the Configure section, and click on the new Subscriptions tab.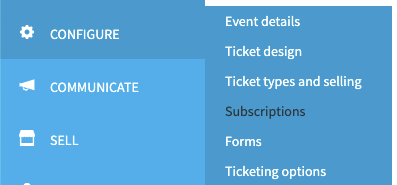 Click on "New subscription" in the top left corner and then pair the subscription with the previously created ticket type in the "Subscription rate" section.
It is possible to link several subscription ticket types to the same subscription, in order to offer several rates for the same rights (e.g. regular rate and discounted rate).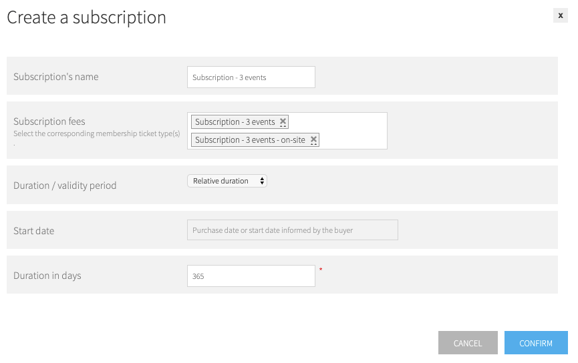 Finally, set a validity period (unlimited, fixed period or relative duration) and then confirm the action.
Important: once subscriptions have been sold, it will no longer be possible to change the duration / validity period
3.4 Adding benefits to the subscription
Also in the Configure > Subscriptions section, click on the '+' sign to the right of the relevant subscription ("Actions" column).

Then click on "Add a member rate", select the event and then the relevant ticket type.
You can set a quota, i.e. a number of times the membership code can be used per event and/or ticket type for each subscriber and validate.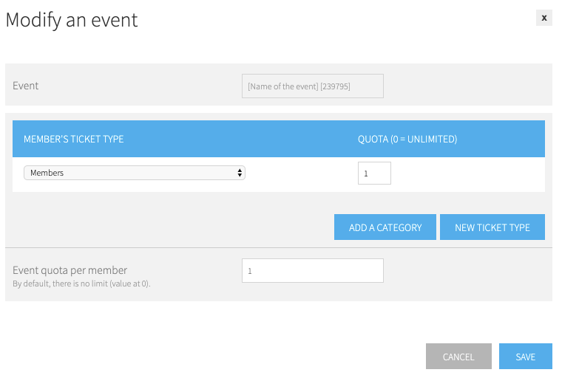 It is also possible to set an overall quota for the number of times a membership code can be used for each subscription.

Once this step is done, the ticket types you have paired with your subscription will only be available to subscribers with a membership code.
Important: as soon as you create new events, you should think about pairing the new subscription ticket types created
Please note: if you have mistakenly added a subscription ticket type, simply click on the "bin" icon next to the relevant rate to remove the pairing with the subscription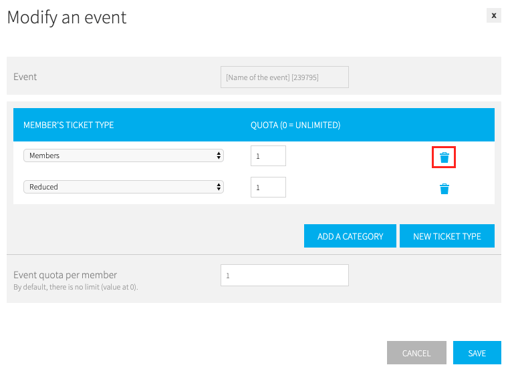 4. Customer
The procedure for the buyer is as follows:
The buyer must first subscribe (fixed price or free, depending on your setting)
The buyer who has now subscribed receives an email with his/her membership code
The subscriber will then choose the events/shows/ticket types to which this subscription entitles him/her (identified by a star) and will use his/her code to book or register for the relevant events. The "subscribers" rates are identified on your ticketing module by a star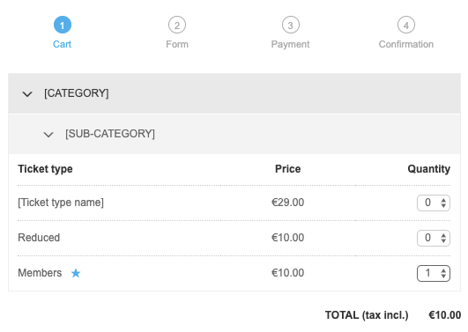 When filling the form, the subscriber's membership code is requested. A non-subscriber will not be able to complete his/her purchase if they do not have a valid membership code.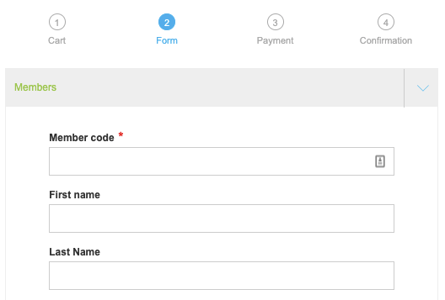 The subscriber must therefore register at least twice - once to subscribe, and a second time to purchase the subscriber ticket type.
5. Collecting information about your subscribers
The "Members" tab is available within your subscription event and summarises the information about each of your subscribers: first and last name, membership code and date of first subscription.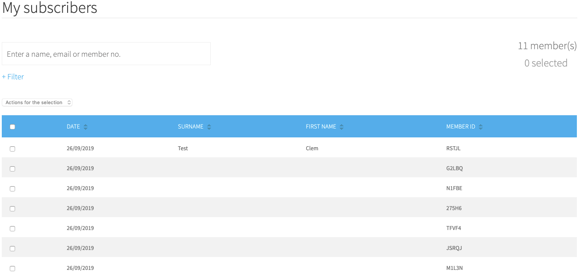 When you click on one of your members, you can view their details and edit them (first and last name and email address only).
You also have access to subscription dates and tickets purchased at the membership rate.