A design which truly reflects your image, and which is applied to the e-badges sent to your attendees.
Paying option (on quote or via our online shop) - No edit can be made once created
An e-ticket in the A6 badge format is an A4 ticket folded in four. This article will help you design and create your customised A6 e-badge template. You will find several recommendations and instructions to follow.
First of all, download the Creation Kit below (which contains a Photoshop template and an example of each of the two PDF files to provide us with) :
| | |
| --- | --- |
| A4 FORMAT | |
| US LETTER FORMAT (Canada) | |
1. Two PDFs per template:
- A "complete" PDF file with variables (so that we can identify your expectations)
- A PDF file without variables (which we will incorporate)
2. Formats of files to be provided
Dimensions

210 x 297 mm - standard A4

Resolution

150 DPI

Size

DO NOT EXCEED 1 mb to ensure emails can be delivered

Safe area

190 x 267 mm (Nothing outside this area)

Colour model

RGB

Format

.pdf

Photoshop export settings

Group all your layers and duplicate the group. Hide the first group. Flatten all layers in the second group, except the layers which include text
Save as > Photoshop PDF
Window > Save as PDF

Adobe PDF preset > Minimum file size
Compression > Bicubic downsampling min 200 and max 210 - JPEG - High quality
RGB output
Save - Check the size of the generated PDF and correct if necessary by adjusting the downsampling value 150200300
Warning : The generated PDF must not contain any transparent areas (i.e. empty pixels). To avoid this problem, create a white block the same size as the final image
3. Content
You are free to decide how to compose your e-badge.
Here are some tips:
- Text : Ensure text is as readable as possible. Optimise the contrast / the impact of important information
- Images : At most, we recommend a simple graphic that reflects your event and a map for the location
To produce a PDF file of optimal quality, the graphic composition should not be too intricate (e.g. gradients, multiple and distinct patterns, significant differences in colour shades, too many images, images that are too detailed).
All of this will ensure a consistent result in terms of printing and good readability across all information entered.

All of this will ensure a consistent result in terms of printing and good readability across all information entered.
4. Variables to be incorporated
ITEM

EXAMPLE

SPECIFICATIONS

STATUS

QR code with barcode number

1D barcode: dimensions 40 x 10 mm, white background with 5 mm margin

2D QR code (recommended): suggested dimensions 12.5 x 12.5 mm, white background with 5 mm margin

Automatically generated

Mandatory

First name, surname, company and position of ticket holder

Chantal Picard

Automatically generated using the form completed by the attendee

Recommended

"Powered by Weezevent" logo

Download the logo:

- .png version

- .svg version

Mandatory

Typical presentation of variables on an e-badge: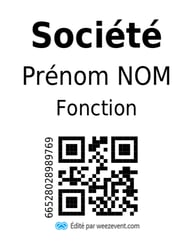 Note : For a single template, the positions of the variables must be fixed
Warning : It is not possible to either change the positions of the variables within the frame or add new fields
5. On-site printing
The A6 format also makes it possible to print badges on-site for last-minute registrations, for visitors who have not printed their e-badges, and for re-issuing poorly printed e-badges.
For a small amount of printing, you can use the box office function with a desktop printer.
For greater efficiency, you can print A6 badge backgrounds (using your creation without variables) onto which you can then stick labels produced with our on-site box offices.
The dimensions of the label are: 75 mm wide x 51 mm high
The variables will be printed in black on this white label.
6. Some examples of our organisers