When you create an event, Weezevent automatically generates the creation of a webpage dedicated to your event: a minisite. It is completely customisable and allows you to display:
The event's ticketing module
The event's key information: name, date, location, description and logo
The event planner's contact details
A Google Map access
Photos
Videos
Text areas
A list of people who have registered for your event
Documents to download: programme, brochure, etc.
A module to share the event by email and on social media (Facebook, Twitter, etc.)
A newsfeed to display the latest information about the event
Tabs to structure your minisite
1. Content of the minisite
All these elements are included to your minisite through the menu Sell > On your minisite. Then you should click on Additional contents.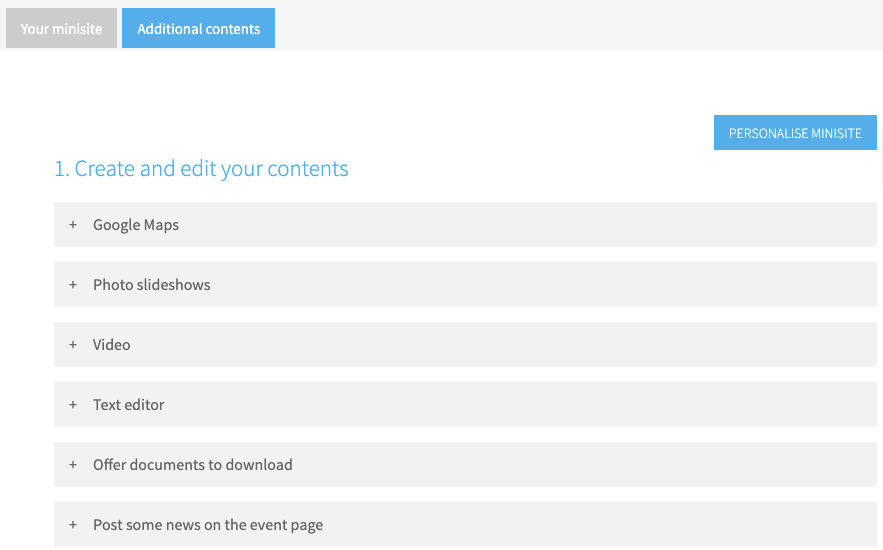 You can customise the content of your minisite by adding elements among those mentioned above. The aim is to have a minisite that's comprehensive, professional and in your event's image.
Tip: if you would like to add pictures but you don't have a Flickr or Slide account, you can use our text editor. From there, you can either paste pictures or import them using the relevant icon.
Your minisite's background image
Feel free to preview your minisite by clicking on the blue URL under the name of your event (top left of your screen).
Click on Edit the minisite to choose a background theme and customise the colour of each area.
A Premium option allows you to create your own visual, that we will then add as a background to your minisite. You can request a quote by writing to contact@weezevent.com.
2. Structure of the minisite
Weezevent helps you structure your event page by adding tabs.
- Choose a name for your tab then click on Add a tab.
- Then select a content in the dropdown menu by clicking on "Choice". The various elements are added to the list of each tab as you are customising it.
Please note that once a tab is created, you will not be able to change its name, nor its position.
3. Access to the minisite
Click on Sell > On your minisite to:
- Change the website address: Weezevent automatically generates an address in the following format: www.weezevent.com/name-of-your-event
Feel free to customise your URL to improve your website's listing.
- Add a banner: Upload a horizontal image that will be displayed at the top of your minisite. By default, the name of the event will appear in that banner.
The image must be in jpg, gif or png format. The maximum size authorised is 905 x 400 px.
- Protect access to your site: You can create a password to limit access to the minisite info.
4. Status of your minisite
Are you happy with your minisite?
Click on the "Draft" button of your event to publish it!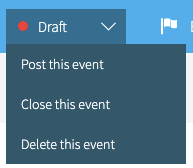 Once your event is posted, you can at any time:
move it back to draft status to close sales
close the event to obtain the final financial statement
delete the event from your list (please note that all data from the event will be lost)