What are operators for?
The term 'operators' refers to user profiles dedicated to access control. The associated login details will only be requested when the WeezAccess app is launched. You can create as many operator profiles as you wish. The same profile can be used to log in to multiple control terminals or mobiles at the same time.
NB: An operator cannot log in to your Weezevent account with the details you've given them, as they will not be recognised by the site. This keeps the password for your organiser account secret, thus protecting your ticketing system's private settings (e.g. event databases)
2.1 Creating login details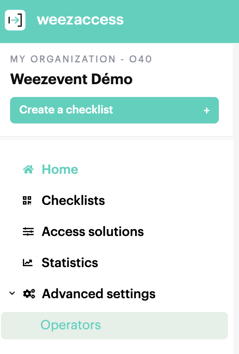 The name field allows you to easily name and manage your users if you create several of them.
The email address and password allow you to log in to the WeezAccess control application and the WeezAccess Pro terminals, which are available for rent. Prices are specified here.
Feel free to simplify the login details by opting for a short email address to enable quick entry when logging in. This can be a false email address (example: controle@2020.com, a@a.fr, etc.).
2.2 Access rights for the WeezAccess app
By default, each operator can access all your access lists.
You can select and edit the lists authorised for each operator at any time and then click Save to finalise the profile's creation.
If you're using the WeezAccess Pro terminal to check tickets for your event, feel free to print out the user guide: