You can schedule the automatic sale of a "B" ticket type when the quota for ticket type "A" is full or reaches the end of its sale period. This option is designed to make it easy to manage discounted rates over time. That way, you will not feel the need to review your settings once you've started selling tickets.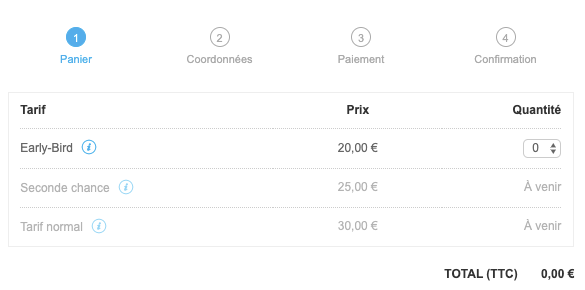 More commonly called "early bird", these ticket types are increasingly common and provide several benefits:
Sell-out your event tickets quicker,
Benefit from word of mouth earlier,
Generate cash ahead of the event,
Reduce the need to sell tickets on the day and break free from worries about potential poor weather.
1. Create your event's ticket types
Go to the menu Configure > Ticket types and selling to create your ticket types.
This article explains everything about creating ticket types if you need more details.
Example: I would like to set 3 sales periods so I am creating 3 ticket types:
Early-Bird tickets for €20
Second chance tickets for €25
Standard ticket for €30

2. Set up the relay between your ticket types
In order for ticket type "B" to take over from ticket type "A", the sale of ticket type "A" must be limited in terms of time or number of tickets. You must therefore set either a defined sales period or a quota.
2.1. "Early bird" rate: Adding a start/end date or a quota
You can set this up from your dashboard:
End of sale date: Confi­gure > Ticket types and selling > Modify > Other options > Start and end date of the sales period > Program the sale

Quota: Confi­gure > Ticket types and selling > Modify > Quantity limit = Yes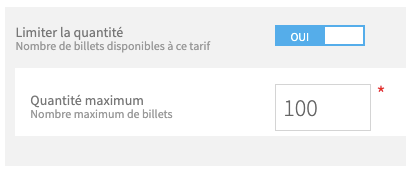 If you'd like to offer your "Early-Bird" tickets for a few days only to give a chance to the first buyers to benefit from a discounted rate, you should set an end date for that sales period.
Sales of that ticket type will automatically stop on that day or once the quota is full.
2.2. "Second chance" rate: scheduled rate after the "Early bird"
Now you need to set-up your "Second chance" rate, which will automatically be put up for sale once the "Early bird" sale is over or once its quota is full.
You'll need to add an end of sale date for this ticket type and a quota if you wish.

2.3. Standard rate: scheduled rate after "Second chance"
Finally, for your last ticket type (in our case, the standard rate), you need to set the start of the sale once the "Second chance" tickets have all been sold or the sales period is over (as previously defined).
The end date should then be either your last day of ticket sales or the end-date of your event.

Please note: all your ticket types must be visible online otherwise the relay will not work