Delivery within 10 working days - Paying option (on quote) - No change can be made once live
The allocated seating option allows you to integrate your seating plan into the reservation module in order to issue tickets with numbers for seats, aisles, lines, etc.
The customer views your seating plan online when making their purchase, and then selects the seat of their choice from a drop-down menu.
With this interactive option, there are numerous opportunities for you to customise your seating plan (e.g. number of seats, range of prices, seating zones, types of members).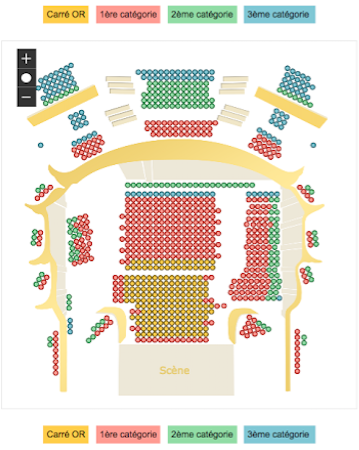 If you wish to add seating to your online ticketing service, here is the list of items to provide us with as precisely as possible:
A graphic with the overall seating plan
A depiction of the room/hall in Excel format with the seat and row numbers
A breakdown of the room/hall, i.e. all information needed to specify the location of a seat (this is tied to the signage present in the room/hall).

Section 1: North, South, East, West gallery // Door A, B, C, D, etc. // Stalls, Balcony, etc.
Section 2: First Level, Second Level, Upper Circle, etc. // Stalls // Free standing area // Pit
Section 3: Entrance 1, 2, 3, 4, etc.
Section 4: Rows: A, B, C, D, etc. or 1, 2, 3, 4, etc.
Section 5: Seat numbering

Ticket prices: What are the different seat categories (e.g. Bronze / Silver / Gold) and what are the prices associated with these categories?
Is seating allocated throughout the room/hall, or are there areas where seats are not allocated? If so, how many seats do these areas contain?
You can also view our free seating in sections service.