Implemented on May 25, 2018, the General Data Protection Regulation (GDPR) is a legal framework relating to the protection of personal data within the European Union. It applies to any controller or any processor established in a Member State or when their processing activities relate to the supply of goods or services to people who are in the territory of the EU.
As part of our business activity, Weezevent collects personal data from participants through our various solutions but also as a subcontractor on behalf of the organiser.
Every individual has the right to delete their data from our system but can also make a request directly to organisers. The way in which customer data is removed is set out below:
An individual can request that their data be deleted by writing to Weezevent customer service. If a customer asks the organiser directly, skip to step 4 after making sure that the email associated with the order is the same as the one from which the individual used to make contact.
They then receive an email request asking them to confirm that they would like their data removed.
Once the request for deletion has been confirmed, the organiser will receive an email in which they must then delete the data.By clicking on "Select an action" at the top right of the home page you are then instructed to "Delete the order".


Once the action has been carried out, all the personal data of the individual AND of fellow attendees if their data were entered, will be replaced with the title "Anonymous".
Attention: the erasure of data is irreversible. If an organiser ever receives a request from an individual just before an event is held, we recommend that the customer is contacted and advised that they defer the deletion of their data until after the event.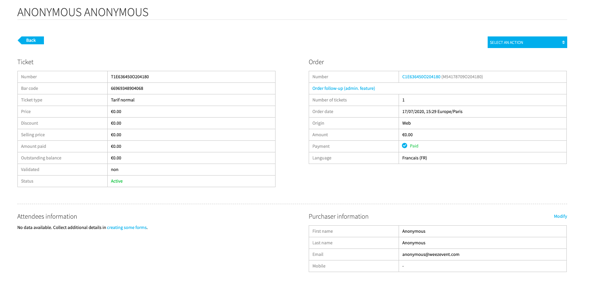 NB: an organiser has 30 days to comply with a request to delete customer data upon receipt of a request to do so.
To find out more about the GDPR framework, do not hesitate to consult our article: GDPR : my duties as an event planner