Are you organising an event in Canada?
1. You haven't create your account yet
Go to Weezevent, enter your name, email and password and click on Create an account. Then, click on "I create my first event". Here choose "CAD ($)" in the Devise drop-down menu and save.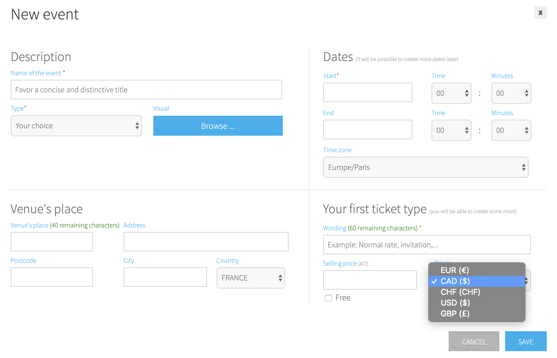 2. You already have an account
If you already sold tickets with this account, you won't be able to change the currency. In this case, create a new account following the 1. step.
If you haven't sold any tickets yet, go your back office > My organisation at the bottom left of your page > Billing > Bank details > Currency. Choose "Canadian dollar • CAD" in the drop-down menu and save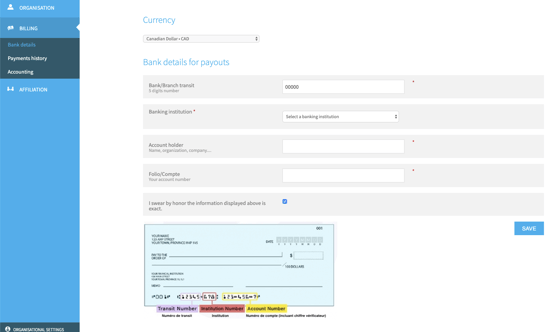 Good to know:
To activate this currency, you must have a bank account in Canadian dollars.
From your first sale you will no longer be able to change the currency
Our fee is CAD 0.99 + 2.5% (incl. taxes) per ticket sold (maximum CAD 19.95) and using our service is free for free events.
As always, bank charges are included and the use of the software is free of charge and without obligation!
Our office in Canada:
7080 Alexandra Street, Suite 306
Montreal, Qc H2S 3J5
(Quebec) Canada
9am to 7pm Monday to Friday
(514) 574-2675
Email: info@weezevent.com