A fully custom design for the e-badges you send to your attendees.
Delivery within 3-5 business days - Paying option (on quote or via our online shop) -No edit can be made once created
The A6 e-ticket in badge format is an A4 ticket folded in 4. This article will help you design and produce your custom A6 e-badge template. You will find a series of recommendations and guidelines to follow.
First and foremost, you can download a production kit below (includes a Photoshop template and an example of each of the two PDF files to be provided to us):
| | |
| --- | --- |
| A6 FORMAT | |
| US LETTER FORMAT (Canada) | |
1. Elements to provide
A PDF file without variable elements (that we will add)
2. File format to provide
Size

210 x 297 mm - standard A4

Resolution

150DPI

Weight

NO FILE OVER 1Mo to guarantee deliverability of emails

Safety zone

190 x 267 mm (No element beyond this area)

Colour space

RVB (RGB)

Format

.pdf

Photoshop export settings

Group your layers and duplicate your group. Make the first group not visible. Flatten the layers of the second group, except the layers that include text.
Save as > Photoshop PDF
Window > Save as PDF :

Preset Adobe PDF setting > Minimum file size
Compression > Bicubic subsampling min 200 and max 210 - JPEG - high quality
RGB output
Save - Check the weight of the PDF generated and edit if needed by playing with the subsampling 150200300
Important: the PDF file generated cannot contain transparent areas (empty pixels). To prevent this, please create a white colour block in the size of the final format
3. Content
The elements of your design are free.
Here are some pieces of advice:
- Text: optimise text readability. Optimise contrast/impact of the key information
- Images: A simple image illustrating your event and a map for orientation are the recommended maximum
To produce an optimal PDF, graphic composition should not be too rich (shading, different or multiple motifs, different shades of colour, too many images, too finely detailed image).
This will guarantee a homogeneous result when printing and good readability of all the information.
4. Variable elements to add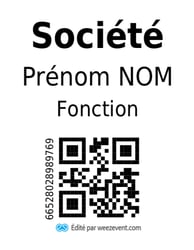 Note: for a single template, the location of the variable elements must be fixed
Important:
the location of the variable elements inside the frame cannot be changed and fields cannot be added
the fields to be added to your form must be preset fields so that they can be automatically added to the e-badge
5. Printing on location
The A6 format also allows to print badge on site for last-minute attendees, people who forgot to print their e-badge or to print again poorly printed e-badges.
To print a small amount of badges, you can use our box office service and an office printer.
To gain efficiency, you can print A6 badge backgrounds (your design without the variable elements) on which you only need to add a sticker printed with our on site box office.
The size of the sticker is: 75 mm wide x 51 mm high
The variable elements will be printed in black on this white sticker.
6. A few examples from our event planners