Would you like to maintain some privacy as a planner? You certainly can! If you would rather not display your personal contact details or your minisite on search engines, the solution is simple.
1. Editing the data appearing on your minisite, tickets or emails
By default, the details automatically displayed on your minisite, tickets and emails are those that you have given when you created your account. However, you may want to display alternative information instead, for various reasons:
they are your personal contact details and you would rather not share them with participants
you are not the event planner, but the event was created from your account
you are planning an event as part of a co-production and would like the contact details of another company or planner to be displayed, in particular regarding license number.
In order to choose which information is displayed, connect to your management interface, and click on the relevant event.
Go to Configure > Ticketing options > + More options at the bottom, then scroll down until you reach Contact information shown on your tickets, minisite and emails.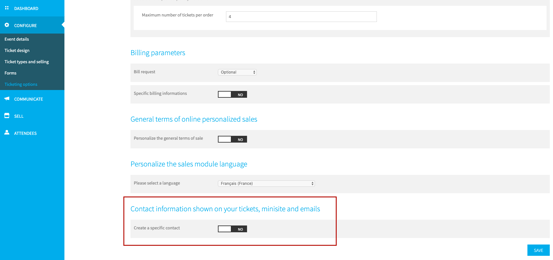 Activate the option " Create a specific contact". The fields you can edit are displayed below. You only need to change them to the details you would like to display, then click on "Save" at the bottom right of the screen.
2. Removing your minisite from search engines
You may not want your minisite to be found on search engines such as Google, Yahoo, etc anymore. It may happen when your event is over. In this case, internet users can still access your minisite and access your contact details, and you can choose to grant access only to those people who you have share a page link with.
To do that, connect to your management interface, and select the event.
Go to Communicate > Referencing and exposure > section Search engines and select the option "Do not appear in the search engines". Don't forget to click on save at the bottom right of the page.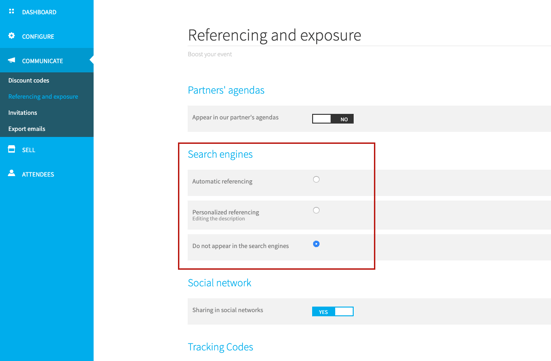 It can take a few days before this change is effective on search engines