The financial statement is an accounting document summarising the number of tickets sold by Weezevent on your behalf and the revenues you collected.
To perform bookkeeping for each of your events, go to My organisation, at the bottom left of your Weezevent management dashboard. Then click on Billing > Accounting.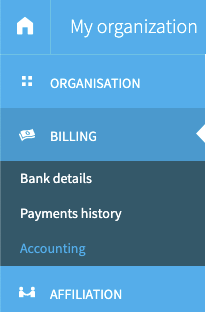 The financial statement includes the below information:
The number of tickets sold on your behalf corresponding to the event's online sales (card payments only) collected by Weezevent.
Weezevent's fees deducted from each ticket sold online (excl. free tickets).
The number of tickets sold directly by the event organiser representing offline sales (manual entries, printed stock, box office sales paid by cheque, cash or other), for which payment has been made to you directly.
The VAT rate applicable for the event and displayed in Configure > Event details or for each ticket type in Configure > Ticket types and selling.
The total number of tickets sold on your behalf plus the tickets sold directly by the organiser add up to the total revenue for the event, and is displayed in the Home section of each event created.

As a reminder, deleting a ticket does not automatically trigger a refund to the buyer. Card payments deleted from your management dashboard are included in the total of payments collected by Weezevent since the money has been paid out to you.
A temporary financial statement is updated as you sell tickets for your event. The final version is generated once your event is closed.
Please note that when you click on Final in Billing > Accounting, you permanently close your event. Please be sure that your event is closed before you do so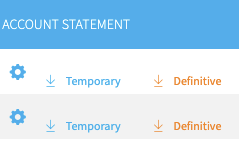 Once your event is closed:
- any banking operations will be blocked
- ticket control will not be available via our WeezAccess Mobile app nor any WeezAccess Pro control device.
Please click on the link below to preview an example of a financial statement: Financial statement
To know more about Weezevent's bookkeeping features, please click here.